The Reading Teachers Association represents the teachers and nurses employed by the Reading Public Schools. The organization was created to support teachers and nurses in their effort to promote high professional standards and improve the quality of education for all of the children of Reading, Massachusetts.
Visit us on Facebook at https://www.facebook.com/rta4kids/
Follow us on Twitter at https://twitter.com/rta4kids
---

---

Reading teachers standing up for their students, schools and themselves at the budget public hearing. We are calling on the
community to pass an override and stop the harmful budget cuts!
---
Letter to the Editor written by RMHS Teacher Jeffrey Ryan
              We, the undersigned faculty of Reading Memorial High School, are grievously saddened and outraged by the appearance of yet another swastika in our building last week.  We stand together in opposition to all the forms of racism, anti-Semitism, and bigotry that are so provocatively expressed by that infamous Hitlerite symbol.  While some may dismiss swastika graffiti as the ill-informed impishness of unruly adolescents, we insist that such dismissal only emboldens the confidence of some vicious hate groups that smolder in our midst.  Some may ask what proof do we have of the existence of such groups; we respond by pointing to the very same swastikas that some people would rather ignore.
This is a lovely community, with wonderful students, but the persistence of Nazi symbols in our classrooms tells us that something is wrong.  We ignore these racist threats at our peril.
The swastika has been adopted by numerous hate groups who seek to return to an idealized past when racism, sexism, homophobia, and religious intolerance were, in many places, the accepted norm.  We teach our students that such bigotry is outdated, morally wrong, and deleterious to the growth of our nation.
We, as a faculty, condemn this new offense as an attack on the vulnerable, an attack on immigrants, Jews, Muslims, Yazidis, Hindus, African Americans, the LGBTQ community, the poor, and other oppressed and vulnerable people.  We also condemn it as an assault on our town, our Commonwealth, and on America, and on all the of sublime ideals with which we associate our beloved country.  We feel so strongly about the importance of this matter that we cannot keep silent.
Wherever there is hatred, we shall not be silent.  Wherever there is racism, we shall not be silent.  And wherever we see injustice, we can never be silent.
In the name of our liberty, democracy, equality, and in mutual love of our fellow human beings, we stand united against this most vile of insults to our honor, our integrity, and our love of country and the entire human race.
Annemarie Cory
Jeff Ryan
Amy Fedele
Kara Gleason
Jessica Bailey
Megan Howie
John Fiore
Pat Dailey
Audra Williams
Danja Mahoney
Kate Crosby
Andrea Mooney
Zac BrokenRope
Jennifer Baskin
Heather Lombardo
Leia Richardson
Giulio Binaghi
Meaghan Janger
Courtney Pray
Joanne Alvarez
Tanya McSorley
Emeline Festa
Danielle Jones
Laurie Donahue
Kylie Kane
Sarah Cummings
Stephanie Leccese
Karen Murphy
Michele Weber Chiappini
Mary Anne Lynn
Alexander Pancic
Kent Hatton
Martha E. Moore
Nancy Najmi
---
Working People's Day of Action
Stand up for your freedom to join unions for a better life.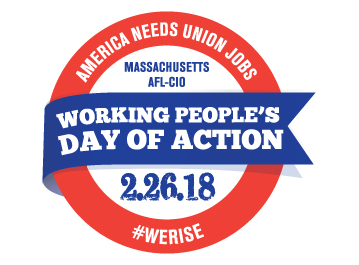 Day of Action Messages
On Monday, Feb. 26, working people from across Massachusetts will join a national day of action to speak out for good union jobs. The actions are scheduled on the same day that the U.S. Supreme Court is hearing oral arguments in the anti-union case Janus v. AFSCME. The case is backed by the same corporate CEOs and billionaires who brought us Question 2 and other anti-union privatization efforts.
Show your union solidarity by wearing a Working People's Day of Action sticker — and spread the message on social media using the hashtags #WeRise and #All_In. There are many ways to get the message out: Take a selfie or a group photo with co-workers and then share on Facebook, Twitter or Instagram. In addition, you can attend one of the many events happening across the state. Fliers for these events are available below to download and share. You can also download a generic flier and customize it to announce a walk-in at your school or college, a group photo or another type of action of your choosing.
Stickers and fliers are being distributed to MTA affiliates across the state. If you are in need of materials, please contact your local president. There will be a lot of national media on the Janus case, and we need to show that we value what the anti-union billionaires are trying to take away.
Why Participate in the Working People's Day of Action
THE CHALLENGE: The Supreme Court will hear oral arguments in Janus v. AFSCME on Feb. 26. Backed by the same corporate CEOs and billionaires who want to privatize public education, this case is intended to weaken the power of public employees to organize for themselves, their families and the common good.
THE RESPONSE: We are striking back by building our collective power — member by member. Whether it's defeating Question 2, stopping the GIC, fighting for a fair contract, or advocating for quality education for all students, we are All In for the freedom to negotiate collectively for a better future.
---
Yes for Reading Get Involved

More information is available at: www.yesforreading.com
---
2017 – 2018 RTA Goals
Member Engagement

Monthly 10 minute meeting held by building representative(s) at each building.

Members wear red and RTA buttons on first Friday of every month.

Community Involvement

Members attend RTA booth at Reading Fall Street Faire.

Members from each building attend school committee meetings.

Social Media

Create a Facebook page and a Twitter account.
Ratified by the RTA Executive Board on August 22, 2017. 
---
All In Campaign 
Learn more about the campaign to build teacher collective power here. 
"When teachers ask, "why should I be a member of teachers union," you might point out that no teacher, acting alone, can affect the changes we can all affect together. "
– Ira Fader, MTA General Counsel, in regards to the MTA's successful effort to resolve the Retirement Plus issue for thousands of MTA members.
Good Reasons to Belong to MTA
There are 110,000 good reasons to belong to the MTA — the 110,000 women and men who make up the strongest force for public education in Massachusetts.
Plus, click here to see these ten good reasons.